Choosing Your Eco-Flooring
So, you're ready to get rid of the dirty carpet, replace the vinyl, turn the garage into a studio or are building your dream home.   To assure you will get a floor that you love and functions well for your household, choose a reputable flooring manufacturer, choose the right material for your lifestyle and make sure the installation is correct!  Flooring decisions can and should be based on several factors:
What is currently on the floor?

If you are replacing an existing hard surface flooring, floating floor planks can simply float directly on your existing floor if it is well secured and flat.  In fact, if you have very old synthetic tile – they could contain asbestos and it's best just left in place and covered.
Do you have a worn, ugly wood floor – or is there an old wood floor under the carpet ?  Perhaps just a good sanding and recoat is all you need.  Remember to use less toxic, healthier stains and finishes – yes, we offer those!

What is the substrate the flooring be installed on top of?

Concrete slabs are most common here in New Mexico at ground level.  If your concrete slab is in good shape you can simply etch, stain and seal.   If it needs repair, spread a concrete micro-topping before staining and sealing.  If you prefer not to live on a hard and chilly floor, woods, bamboo, natural linoleum (marmoleum) and corks are available that just 'float' – no glue or nails required.  Several styles have a built-in underlayment - the woods will require an additional underlayment – we like 1/8″ cork.
Some solid woods can be glued directly to concrete.
Tile can be installed directly on concrete, but again is hard and cold.
If you have in-floor radiant heat a floating floor can work great but some certainly work better than others in conducting heat and/or performance.
Plywood or particle board is another common floor substrate.  Most all flooring choices can be either glued, nailed or floated on this substrate.

​Will you hire somebody to install your floor or Do-It-Yourself?

Some flooring materials are best installed by a professional.  For instance, sheet marmoleum requires special skills, tools and knowledge of the material.
Gluing and/or nailing a wood floor also requires a skill level and the appropriate tools.
Drop-n-Lock or click panels are the easiest to install or the least expensive labor.
There are lots of great videos online to help instruct you along the way.  Rent or borrow the tools you may need.

How will the room or space be used?

​Consider how much use and what kind of use you expect the floor to manage.  For instance, cork is a wonderful choice for kitchens and bedrooms where we spend lots of time on our feet and/or barefoot, but may not be a great choice for a mudroom.
Planning and Prepping
If you are hiring a contractor, have them look at the job prior to ordering materials, they can help determine the correct amount of material to order and explain exactly what will be required to get the best install.  We can recommend an installer that is experienced with our flooring if you like.
The flooring you choose most likely needs to be ordered and shipped to the store.  Allow for 10 days to 2 weeks for the product to arrive at the store.
Flooring products require time to acclimate in your home before installation.  Solid woods can take up to 3 weeks while engineered woods, cork and marmoleum only about 3 days.
Assure your floor or substrate is level enough – some filling and sanding may be required before installation.
What about the baseboards?  Can they be re-used?
Pre-finished materials can be lived on immediately, while refinishing a wood floor or staining and finishing a concrete floor will take more time.  The finishes need to dry and cure before moving back into the room.
Care and Maintenance
Most all hard surface flooring manufacturers will require and/or suggest a humidifier – keeping the humidity to between 30% and 50%.  In reality most of us do not run a humidifier and most floors do okay without them, however it may invalidate your warranty.
Keep the floors swept – dust underfoot acts as sandpaper, wearing your floor.
Damp mop as necessary.
Use the manufacturer's recommended cleaner.  Usually a good, PH Neutral cleaner will work.  Always test a small spot if unsure.
Manufacturers also may have their own polish.  These are applied as necessary to renew the luster of the floor.
Southwest Green Building Center would like to help you choose a beautiful floor!   We will make sure you leave with installation and maintenance instructions!  Do it right the first time for a healthy floor that will last a lifetime!
Keeping it Non-Toxic, Gorgeous and Affordable with Marmoleum from Forbo Industries.
Marmoleum – Natural Linoleum -  "The most natural of materials" "Life-cycle analysis shows that our linoleum products are the ecologically preferred floor covering. Linoleum is produced from renewable materials: linseed oil, rosins, wood flour, jute and ecologically responsible pigments. These materials underlie the charm that gives each design its inimitable, distinguished look." from http://www.forbo-flooring.us/Environment/Our-environmental-promise/
Marmoleum is Asthma & Allergy Certified – the components in the materials are naturally anti-microbial – making this an extremely healthy flooring material.  Available in both sheet goods and click planks in 1′ x 3′ and 1′ x 1′ – perfect for patterns.  So many fun and fantastic colors too!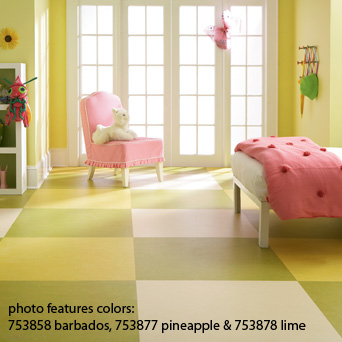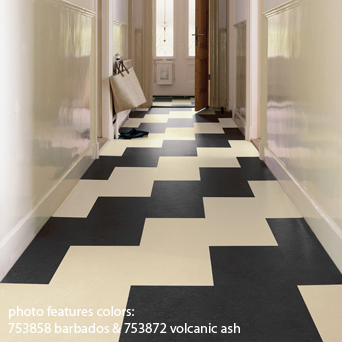 Stop in today to see all the great colors!  
Keeping it Non-toxic, gorgeous and affordable at Southwest Green Building Center with US Floors.
US Floors - "USFloors Natural Bamboo, Natural Cork and Natural Lino products all satisfy LEED credits for Indoor Air Quality AND meet the European E0 Standard, a strict test that measures the amount of formaldehyde in a product. Formaldehyde is found in the glues and adhesives used to make bamboo and cork floors, but USFloors specifies low formladehyde content in all of its Natural Bamboo and Natural Cork floors to exceed health standards established in the United States, Europe, and Japan. 100% formaldehyde-free products are our ultimate goal. In addition, HDF core boards used for our floors have no added formaldehyde." from  http://www.usfloorsllc.com/why-natural-cork/eco-mission/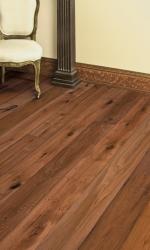 Navarre Wood Floors – "Lyon" – 5/8″ x 12″ x 86 5/8″ – FSC Engineered - Natural Oil Finish - $5.19/sq. ft. till gone.
Engineered Drop & Lock Strandwoven Bamboo – Spice, Tiger or Natural – 3/8″ x 3-3/4″ x 36″
Special – $3.59/sq. ft.
These photos were taken at my sister's home.  She installed over 1000 square feet last year and loves it.  Removing the carpet and installing this flooring created an entirely new look and clean feel in her home.  It is wearing incredibly well – no scuffs or marks!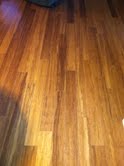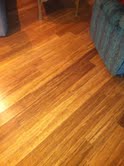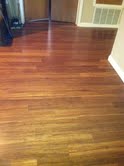 US Floors offers hundreds of patterns in cork flooring. These floors offer comfort and beauty for the life of your home.  Great in the kitchen where you spend most time on your feet. Everyday pricing ranges from $3.89 – $6.69/sq. ft.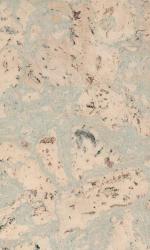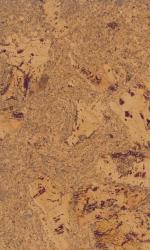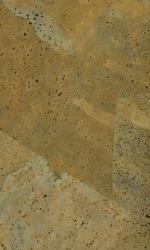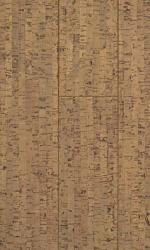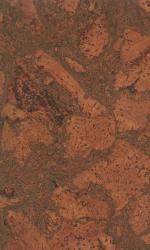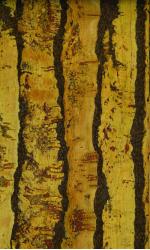 This discontinued style is $3.29/sq. ft. while it lasts!
Stop in today!
Southwest Green Building Center offers

Eco-Fusion Flooring

and this is why!  Total Value!
- "EcoFusion is proud to offer an entire line of flooring that is made without the use of urea-formaldehydes or harmful VOC's (Volatile Organic Compounds). Most flooring products from other companies contain some amount of harmful or toxic chemicals that can off-gas in your home. EcoFusion takes great pride in its manufacturing process to ensure that your family receives a flooring product that is safe from any harmful VOC's that could affect your family's health. All ECOfusion Flooring products exceed indoor air quality standards as tested to CARB2012 and EO thresholds." from http://www.ecofusionflooring.com/eco-impact/
Solid Standwoven Bamboo – Drop N Lock - 1/2″ x 4.5″ x 72 7/8″ - 6 colors - Special – $4.99/sq. ft. – 4/1/13 – 5/30/13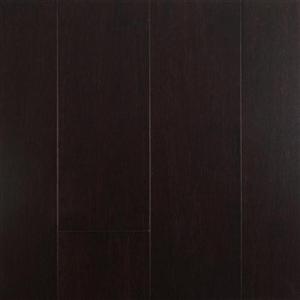 Dark Chocolate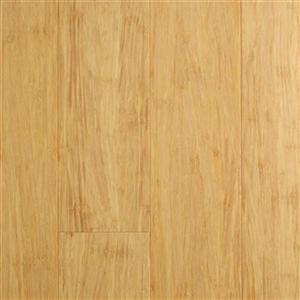 Natural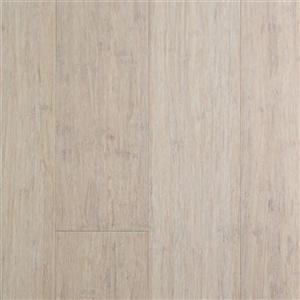 Frost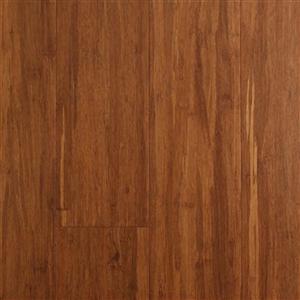 Carbonized
Solid Standwoven Eucalyptus – Drop N Lock - 1/2″ x 4.5″ x 72 7/8″ - Special – $5.99/sq. ft. - 4/1/13 – 5/30/13
Strawgrass
Handscraped Musket
These floorings are much more beautiful in person.  Please stop in and take a look and feel!  Special pricing valid 4/1/2013 – 5/30/2013.   See you soon!
Deco-Poz – Concrete Micro-topping is a favorite product at Southwest Green Building Center.  This product can be skim troweled onto virtually any existing surface and/or material – used for updating counters and showers or re-surfacing floors.  The best part is no deconstruction is needed and no waste to the landfill – simply apply over any existing material or new formaldehyde free underlayment.
Deco-Poz Decorative Concrete Pozzolan Resurfacing System is a special high performance, cementitious eco-blend utilizing a custom 100% post industrial recycled white pozzolanic mineral additive that is combined with a non-hazardous polymer.  The aggressive bonding over existing substrates and difficult adhesives saves hours, or even days, of demolition, stripping, etching, or grinding and takes the guesswork out of evaluating proper porosity or color results.
Unlike silica fume, coal fly ash, furnace slag and other by-products, the pozzolans are free of iron, manganese, and other undesirable color-inducing impurities. Deco-Poz Cement Mix is available in white for an optimum color-neutral substrate that enables more true and brilliant colors. Or choose the gray mix for a more conventional concrete base.
The Deco-Poz surface is formulated for SoyCrete Concrete Stain and is compatible with other concrete stains and coating systems that require a durable, porous cementitious substrate.
Use to resurface: ◊ Floors   ◊ Walls   ◊ Decks   ◊ Sidewalks   ◊ Pavements   ◊ Countertops   ◊ Artistic Displays
Adheres to:  ◊ Concrete   ◊ Wood   ◊ Metal   ◊ Gypsum   ◊ Coatings   ◊ Adhesives   ◊ Tiles   ◊ Laminates   ◊ Asphalt
System Kit:    (1) Gallon Deco-Poz Polymer Concentrate & (1) 42 lb Pail Deco-Poz Cement Mix – $124.90/kit or $.71/sq. ft. (Skim coat coverage approximately 150-200 sq. ft. in two coats @ 1/16″ per kit depending on surface texture, porosity and application method)
Visit  http://www.ecoprocote.com for complete information and installation instructions.
Deco-Poz Concrete Micro-topping Floors
Deco-Poz was originally designed to resurface floors.  Damaged concrete and floors where tile, vinyl or glued carpet have been removed are perfect candidates for Deco-Poz.  After scraping and cleaning your floor, Deco-Poz is troweled or floated on.  Many tile floors can be resurfaced without removing the tile at all.  After drying, apply a SoyCrete stain and finish with eco-friendly sealers and topcoats.  The Downtown Hyatt has used the products as well as many DIY customers.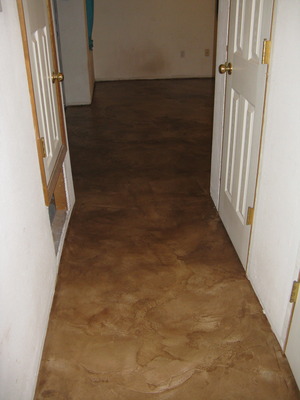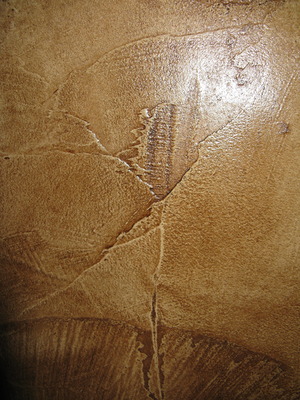 The floor above was resurfaced and stained by Christie, a regular customer and DIYer.  She did a great job and the staining is beautiful.  The above photo shows Christie's hallway leading into a larger room, as you can see, she completed a large area.  The next photo is a close-up of the finish.  Great job Christie and thanks for taking the time to send photos!  You can also achieve a high gloss wet look, or higher mil matte finish, with Eco-Tuff Clear Coat.
Deco-Poz Concrete Micro-topping Counters
During the past few years, Deco-Poz has become popular for resurfacing countertops, backsplashes and shower enclosures.  Again, it is simply troweled onto your existing formica, marble, or tiled surface.  This makes for an extremely affordable update for either the DIYer or when hiring our professional installer.  Below are photos of both DIY projects and professional installations by Solamente Clay.
This turquoise counter is from my townhome and I was able to do the entire project myself!  It was formally 4″ tiles, some cracked.  After 2 coats, I settled for a somewhat textured surface.  I must admit – the rounded backsplash top was challenging.  I could have sanded the surface to create a smoother texture, but the high mil finish ended up smoothing it for me.  I mixed the green and blue SoyCrete stains to create a custom turquoise.  After the stain dried, 2 coats of Eco-Tuff were applied.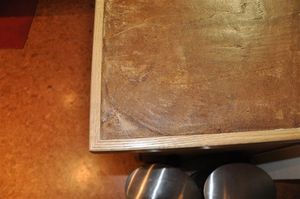 The photos above show my island counter (and a glimpse of cork flooring!).  It started as an outdated burnt orange formica surface.  My contractor secured a 2×10 to one side to enlarge the island and nailed the oak trim to the edges – about 1/16″ higher than the existing formica.  This created a nice 'form' to spread the Deco-Poz.  Using a 'magic trowel' that looks like a squeegee, I got a pretty smooth surface.  The irregularities just add character and a personal touch!  I stained it first with a light brown, followed by a darker brown.  Again, the finish can be a high-gloss, wet look too.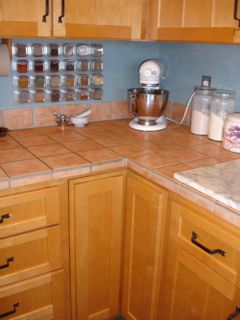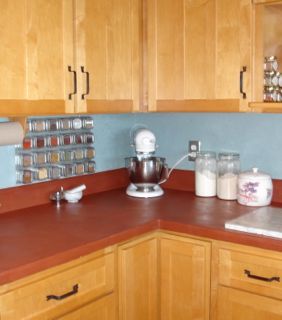 The above before and after photos show a professional application by Solamente Clay.  This look was obtained by adding the color directly into the DecoPoz wet mix.  After a seal and finish coat, it is absolutely gorgeous and looks most similar to solid concrete counters.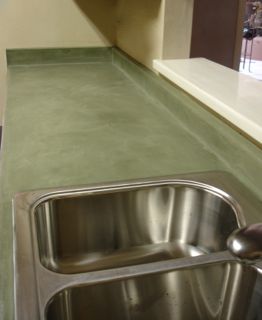 Another professional counter by Solamente Clay.  Solamente offers complimentary in-home estimates, give them a call at 505-205-6010.  You will be pleasantly surprised by the affordablity – a fraction of the cost of granite or similar surfaces!
If you missed the January Organic White Sale, here's a fantastic Savvy Rest promotion – get a complimentary wool mattress pad and 2 shredded latex pillows with each mattress purchase.  It's about a $500 value when purchasing a king mattress.
In addition, we continue to offer our in-store discount and complimentary shipping to your doorstep Why a Savvy Rest Mattress?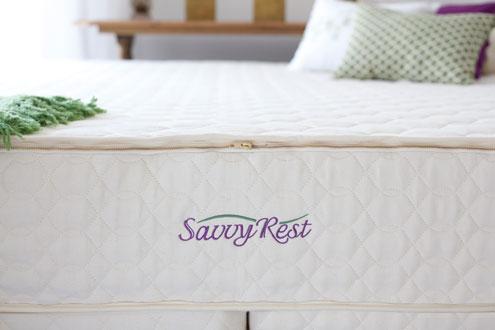 Savvy Rest mattresses continue to rate as a top value in mattresses today for several good reasons.  We've listed a few below!
Health Toxic chemicals are used extensively in the mattress industry.  Whether it's a chemical fire retardant or petro-based sythetic foams, the long-term effects are uncertain and worry healthcare providers and parents alike.  Savvy offers a wonderful crib mattress!
All Savvy Rest Organic Mattresses are made of natural Dunlop or Talalay latex rubber, with durable casings of certified organic wool and certified organic cotton.  The wool component provides the required fire resistance without the dangerous chemicals.
Comfort The organic latex foam in a Savvy Rest is comfortable, supportive and pressure relieving. This mattress will respond to your body and nighttime movement like no other.
A Savvy Rest Organic mattress is made of 3″ layers of latex – up to 4 layers. You choose your firmness level and can even choose different comfort levels for each side - similar to the adjustable air beds.
Durability
A Savvy Rest Mattress carries a 20 year warranty – many folks find a latex mattress will last up to 40 years, which is 2-3 times longer than a conventional mattress.
We look forward to helping you choose the perfect organic mattress!  To learn more about Savvy Rest visit www.savvyrest.com or call us at 505-821-6259.  Visit our showroom and feel the comfort – open 6 days a week – during nap time!
Planning
Planning may be as easy as picking a new paint color and flooring, or it may require hiring an architect and/or engineer if your plans are more extensive and involve adding space or moving walls. As the vision of your new or updated space takes shape, there are a few things to keep in mind:
Budget – be realistic.
Lifestyle and how the space will be used.
Timing – when will the work be the least disruptive? When is your contractor (or you) available?
What if you uncover or expose toxic materials like asbestos or lead?
Avoid new materials with harmful chemicals and offgassing.  Particle board shelving, cabinet boxes and underlayment, most carpet, paints, stains, finishes, glues and flooring are all materials that may contain the icky stuff.
If you plan on selling your home, building or condo within the next 5 -10 years, consider nuetral colors that make reselling easier.  You can add your personality with accents like furniture, pillows and artwork.
Doing
Make a 'calender of events' to keep the project flowing - when to pick a paint or plaster color, permit and/or inspection timelines, when to order flooring (don't forget to account for shipping and acclimation!), and on and on.
Wear protective gear (gloves, goggles and dust mask) when deconstructing and doing prep work like sanding.
Keep your areas organized and clean.  Tools last longer, time is saved and minor injuries are less likely.
If you do discover lead or asbestos – sometimes it is best to leave it be and apply new sealers and/or finishes over the areas.  If lead based paint and/or asbestos must be removed – hire a professional to mitigate the problem.  Same with mold – mitigate it before moving on.
Do it right the first time and HAVE FUN!
Easy SWGBC Solutions
Non-toxic paint & finish strippers and cleaners.
​
Flooring – a big consideration and cost.  We encourage you to compare our flooring prices with anyone else's – including the big box stores.  Carpet is highly discouraged due to the off-gassing in the months after installation and the dust and dirt that continually builds thereafter.  And with cork flooring prices now competing with carpets, a hard surface floor fits into most budgets.  SWGBC offers so many great flooring options in bamboo, cork, FSC wood and marmoleum too.  Marmoleum is allergy and asthma certified and all our flooring meets Green Guard standards for low or no emissions.
Wall coatings such as American Clay plaster that actually improve your indoor air quality and comfort.
Paints from AFM Safecoat – available in all colors and sheens!     Flat gallons only $42.90!
Wood stains and finishes from Vermont Natural Coatings, EcoProcote and AFM Safecoat.
Concrete micro-topping – DecoPoz – originally made to resurface floors and now also used to resurface countertops and shower enclosures too.  

Materials only $1.50 – 3.50 sq. ft. – compare that to granite!

Look for an entire newsletter on the great projects completed by our DIY customers and Solamente Clay Walls' crew in next month's newsletter.
Low flow showerheads, kitchen and bath aerators and ultra high efficiency toilets look good and save water.
LED replacement lamps – great options in downlights provide full room illumination, are dimmable and will out-live most of us.  Of course you are saving energy too!   
​
A Kill-O-Watt can help you decide if a new refrigerator or electric dryer may be in order – Energy Star appliances can add up in savings.
Wheatsheet instead of particle board – we have some in stock now at only $18!   
Concrete countertops are becoming quite popular.  They are both gorgeous and highly functional.   Smooth, easy to clean and unique.
Two challenges with concrete counters may be weight and cost.
Well, we have some exciting news and love this product!  DecoPoz, a concrete micro-topping can be applied directly on your existing laminate or tiled counter, as well as any underlayment or substrate.  Being a "micro-topping", the weight issue is solved and with materials at about $4/sq. ft., the price is right.
DecoPoz is troweled on and stained when dry, or color may be added into the DecoPoz mixture itself.   The resulting looks are a bit different, but both beautiful and customizable.  To finish the job, a sealer and finish are applied – both very low in odor and very low in VOC's.
The photos above show a before and after.  The color was integrated into the concrete mixture for this application.  Applied by Solamente Clay Walls.  www.solamentecalywalls.com
When using your existing counter-top you save a trip to the landfill (love that part) and the clean-up is minimal.   DecoPoz application is definitely within the skill reach of your average DIYer or we can send Kent out to give you an installation bid – average pricing is under $20/sq. ft.
DecoPoz can be applied to floors and showers too!
Cork Flooring
Yeehaa –  the perfect opportunity.  I already knew I wanted cork flooring after being in the green building business for several years.   Not only is it economical – it's gorgeous, comfortable, easy to clean, non-toxic and environmentally sound.
I was so excited to be moving back to Albuquerque and into a townhome of my own.  An attractive part of the deal was the townhome was sold with a "flooring allowance".  The carpet was fairly disgusting and the tile in the kitchen and entry were half missing and cracked.    The carpet was removed within days – choosing to live on the cleaner subfloor until the new flooring would be installed.
I measured, ordered and my contractor and I installed Natural Cork – the Eco-Cork line in 'Roca'.   The planks are 1′ by 3′ and click together – essentially floating on the subfloor. Leaving a small gap at the walls, which are hidden under the base boards, the floor moves as one piece if it needs to contract or expand.  In addition, there are no micro-bevels or grout lines, making for a very smooth surface.  Between the smoothness, warmth and the slight give of cork – wow, it is soooo comfortable.  Bonus, it is super easy to keep clean too!
For the actual stair treads, stair landing and entry, I choose a bit harder material, bamboo.  The solid stair treads are one piece and easy to install.  The risers are cork and I love the look – they blend so well.
The photos above were taken just a couple weeks ago, but the flooring project was done over 4 years ago.  The materials continue to look great with no problems what-so-ever.  There has been spilled wine, coffee and even cat pee on the cork and all cleaned up easy and with no staining or penetration through the finish.   I love it and highly recommend cork flooring to friends and customers. There are a couple hundred color and style options available and the price range is $3.89 – $6.69/sq. ft.  Bamboo starts at $3.49 and is also available in several formats and colors.   http://swgreenbuildingstore.com/products-page/eco-flooring/cork-flooring/
Furniture – the culprits
If you are in the market for a new sofa, bed, dining table, baby furniture or even new cabinets, you might want to do a bit of research to find out what's really in there. Like most consumer products, you get what you pay for. Inexpensive furniture, shelving and cabinetry will be constructed with pressed wood – a particle board, plywood or oriented strand board (OSB) with a thin veneer of real or faux wood or laminate. The problem lies in the adhesives used to bind the wood or wood bits together – which most likely contain formaldehydes. Formaldehyde is off-gassed from these pressed woods for years after the purchase and can greatly affect your health, especially in infants and elderly folks.
Solid hardwood, on the other hand, is a much better choice – just watch the finishes. Although most all solid hardwoods emit negligible natural VOC's, some stains and finishes contain high levels of VOC's (volatile organic compounds) which can off-gas unwanted fumes.
Furniture with cushions or soft seating, like loungers and sofas, are constructed of fabrics stuffed with foams or fibers. The first issue is the foams – they are usually made with synthetic and petro based products. Petro-based materials are often composed of numerous hazardous chemicals. Another issue with cushions are they most likely contain fire retardants. According to a July 2012 article by Chicago Tribune reporter, Michael Hawthorne, "some of the most widely used chemicals are linked to cancer, neurological deficits, developmental problems and impaired fertility." Fortunately the same article says the EPA recently announced it will conduct a broad investigation of flame retardants. Meanwhile, the Consumer Product Safety Commission urged lawmakers to grant special authority that could speed the removal of hazardous flame retardants from new upholstered furniture, including sofas that can contain up to 2 pounds of the chemicals in their foam cushions.
Furniture – some answers
Remember that phrase, you get what you pay for? Furniture, especially beds and mattresses may be the area you want to make that extra investment. For starters, do it for you and your family's health – priceless indeed. In addition, good constructed furniture made with solid hardwoods will outlast a particle board/veneer finished piece ten times over. While your mattress may not become a family heirloom, a nice piece of furniture certainly will hold it's value and can be used for generations. This saves money, resources, and prevents more unnecessary additions to the landfills.
If you have recently purchased shelving, furniture or cabinetry, look inside or underneath the piece to determine the construction. Particle board, plywood and oriented strand-board are pieces of wood that are glued together to make a board. Particle board is made of very small wood fibers, OSB contains larger pieces of wood and plywoods are thin slices of wood glued together to achieve a desired thickness. If it is indeed made with plywood, particle board or OSB, you can apply a coat of AFM's SafeSeal or HardSeal, sealing the material to prevent further out-gassing. Even if the furniture is laminated or painted, a coat of HardSeal can do the trick. If the furniture is over 5 years old, the out-gassing is pretty much over – don't worry about it.
If you recently purchased a sofa or chair – something with cushy seating (foams) and pretty fabric – it is probably treated with fire-retardants. Unfortunately, there is not much you can do to it to rid of the chemicals, short of replacing the foam. However, off-gassing is strongest at first, so if you can let your new stuff air out in the garage or outside for the first several weeks, you can help to minimize the problem.
What to look for in new furniture:
Old furniture – that's right – used furniture has already had a chance to off-gas. Solid hardwoods will be much less expensive on Craigslist, the flea market or an estate sale. If a re-finish is in order, choose low VOC stains and/or finishes – we offer several good choices! Cushions can be re-stuffed with wool, natural latex or soy-based foams and/or re-upholstered with eco-fabrics.
Untreated upholstery or non-toxic fabric treatments for fire resistance, waterproofing and stain-proofing
Locally manufactured using local materials if possible
Solid hardwood construction (no glues) or non-toxic glues
Fabrics of organic cotton or another natural fiber
Non-toxic stains and/or finishes
Southwest Green Building Center Solutions
AFM Safe Seal – is a multi-use, waterbased, low gloss sealer for highly porous surfaces such as particle board, plywood, processed wood and porous concrete. Used primarily to reduce toxic outgassing: in particular, it is highly effective at sealing in formaldehyde outgassing from processed wood such as plywood and particle board. Safecoat Safe Seal is virtually odorless on application and odorless once cured.
AFM Hard Seal – is a multi-use, clear gloss sealer specially formulated to provide scratch resistance to both low and high porosity surfaces. Because it forms a continuous membrane when applied properly, it is particularly effective at sealing in any pollution or toxic chemical compounds outgassing from the surface to which it is applied.
Stains & Finishes – we offer several products from AFM Safecoat, Eco-Procote, OSMO and Vermont Natural Coatings
Dapwood Furniture – Bedframes, nightstands and dressers made from solid hardwood – right here in Albuquerque! Check out their great looking items at www.dapwood.com or on our website.
Savvy Rest Mattresses – no fire retardants – the wool component provides the required fire resistance. All natural and organic foam too! Crib mattresses also available and becoming popular!
Dapwood + Savvy + latex/wool stuffed pillows = an awesome sofa or daybed!